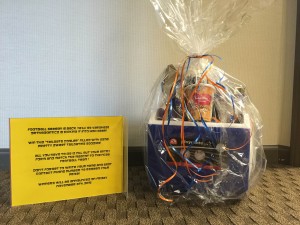 We hope everyone had a pretty awesome summer and we can't believe that Fall is upon us. This means that Football Season is back, ya'll! So, Varghese Orthodontics has been kicking it into high gear :)
Win this "Tailgate Cooler" filled with some pretty sweet tailgating treats:
* A Frisbee
* Pirate's Booty Popcorn (Totally Braces Friendly)
* A Varghese Orthodontics Beverage Mug
* Homemade Hot Cocoa Mix
* Tailgate sized soft cookies
All you have to do is match the mascot to the NCAA Football Team! Please don't forget to write your name and best contact phone number to redeem your prize. Please submit your entries at the front desk.
WINNERS WILL BE ANNOUNCED ON FRIDAY NOVEMBER 6TH, 2015
We wish you the best of luck! Go Chicago!